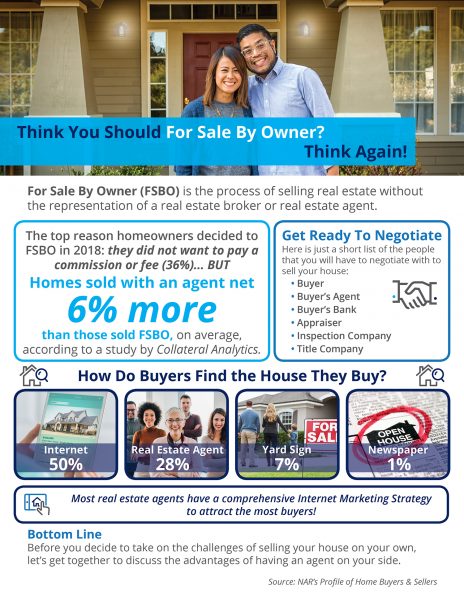 Some Highlights:
For Sale By Owner (FSBO) is the process of selling real estate without the representation of a real estate broker or real estate agent.
According to the National Association of Realtors' Profile of Home Buyers & Sellers, 36% of homeowners who decided to FSBO last year did so to avoid paying a commission or fee. But, homes sold with an agent net 6% more than those sold as a FSBO according toCollateral Analytics!
Before you decide to take on the challenges of selling your house on your own, let's get together to discuss the advantages of having an agent on your side.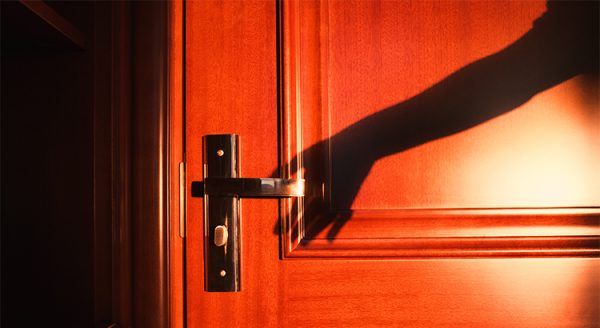 We have all seen the headlines that report that buying a home is less affordable today than it was at any other time in the last ten years, and those headlines are accurate. But, have you ever wondered why the headlines don't say the last 25 years, the last 20 years, or even the last 11 years? Dispelling the Myth About Home Affordability:
The reason is that homes were less affordable 25, 20, or even 11 years ago than they are today.
Obviously, buying a home is more expensive now than during the ten years immediately following one of the worst housing crashes in American history.
Over the past decade, the market was flooded with distressed properties (foreclosures and short sales) that were selling at 10-50% discounts. There were so many distressed properties that the prices of non-distressed properties in the same neighborhoods were lowered and mortgage rates were kept low to help the economy.
Low Prices + Low Mortgage Rates = High Affordability
Prices have since recovered and mortgage rates have increased as the economy has gained strength. This has and will continue to impact housing affordability moving forward.
However, let's give affordability some historical context. The National Association of Realtors(NAR) issues their Affordability Index each month. According to NAR:
"The Monthly Housing Affordability Index measures whether or not a typical family earns enough income to qualify for a mortgage loan on a typical home at the national and regional levels based on the most recent monthly price and income data."
NAR's current index stands at 138.8. The index had been higher each of the last ten years, peaking at 197 in 2012 (the higher the index the more affordable houses are).
But, the average index between 1990 and 2007 was just 123 and there were no years with an index above 133. That means that homes are more affordable today than at any time during the eighteen years between 1990 and 2007.
Bottom Line
With home prices continuing to appreciate and mortgage rates increasing, home affordability will likely continue to slide. However, this does not mean that buying a house is not an attainable goal in most markets as it is less expensive today than during the eighteen-year stretch immediately preceding the housing bubble and crash.